In-House Training Programme Accreditation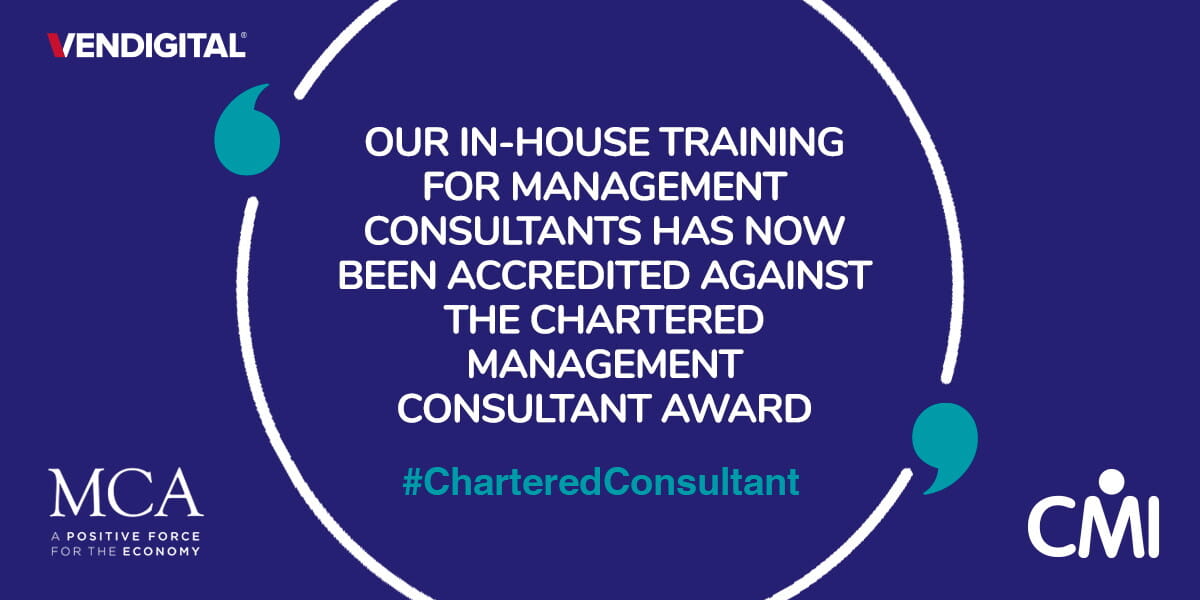 We are proud to announce that our in-house training programme for Management Consultants has now been accredited against the Chartered Management Consultant Award. https://mgrs.uk/2aq
At Vendigital, we take the development of our team seriously. We recognise that we have a fantastic group of ambitious and talented colleagues. Over the years, we have built up a robust development programme which includes in-house training, development infrastructure and delivery tools to enable our team to reach their full potential. The accreditation of our development programme ensures that we are resourced to support our team to achieve Chartered Management Consultant Status.

What does development look like at Vendigital?
Our aim is to support all our team to thrive in their career and our approach to doing so is underpinned by personal career aspirations, transparency and building well-rounded future consulting leaders. To do this, we utilise:
Our BUILD Career Development Processes which aims to provide transparency around the progression paths within our various specialities and ensure that we are providing clear developmental feedback to all of our team to support their onward progression.
Our In-House Training 'Vendigital Core Capabilities' which consists of 20+ modules ranging from technical skills such as PowerBI, Cost and Value Engineering and Vendigital Tools to softer skills such as Structured Thinking, Effective Communication and Core Consulting Skills.
Our Development Frameworks such as our Skills Matrix which allows our team to track their technical competencies as they build up experience on clients and evidence their learning and progression.
These tools alongside our small team environments and collaborative culture have been proven to expedite the development and progression of our team who we are proud to support and sponsor through their careers.
Chartered Consultant Award
The Award has been created in a joint partnership between the MCA, Management Consultancies Association, the trade association for the UK's leading consulting firms and CMI, Chartered Management Institute, which was appointed by the Privy Council as
the Awarding Body. Our development programme has been assessed against the Chartered Framework to ensure that our development tools support the holistic development of our consultants. The Competency Framework is made up of:
Ethics and Professional Standards
Leadership and Management
Consulting Operating Environment
Personal and Professional Development
For more information on the award and the Competency Framework please visit managers.org.uk/ChMC. 
Our programme accreditation will allow us to support our experienced consultants to credentialise their experience via the Experienced Professional route whilst also allowing us to support junior and new team members via the On-Programme Route. We are delighted to have achieved programme accreditation and look forward to supporting our team on the path to becoming Chartered Consultants.